Office of Professional Education
The James L. Winkle College of Pharmacy Office of Professional Education and Assessment supports the college, faculty, staff, and students in the areas of
Curriculum
Assessment
Accreditation
Interprofessional Education
Co-Curricular Activities
Instructional Design
Information Technology
Continuing Education
Ensure curricular alignment with evolutions in the practice of pharmacy and the pharmaceutical sciences;
Implement innovative educational delivery and assessment;
Increase interprofessional education, training and collaboration;
Expand and improve introductory and advanced pharmacy practice experiences;
Facilitate the continuous assessment of achievement of college goals and student outcomes within the professional pharmacy program and the graduate education programs;
Support compliance with accreditation standards
The Winkle College of Pharmacy is committed to the education and training of highly competent student pharmacists. The information provided here is for the public with measures of student performance as we work to achieve our mission and goals.
Doctor of Pharmacy graduates must successfully pass the North American Pharmacist Licensure Examination (NAPLEX) to practice pharmacy in the United States.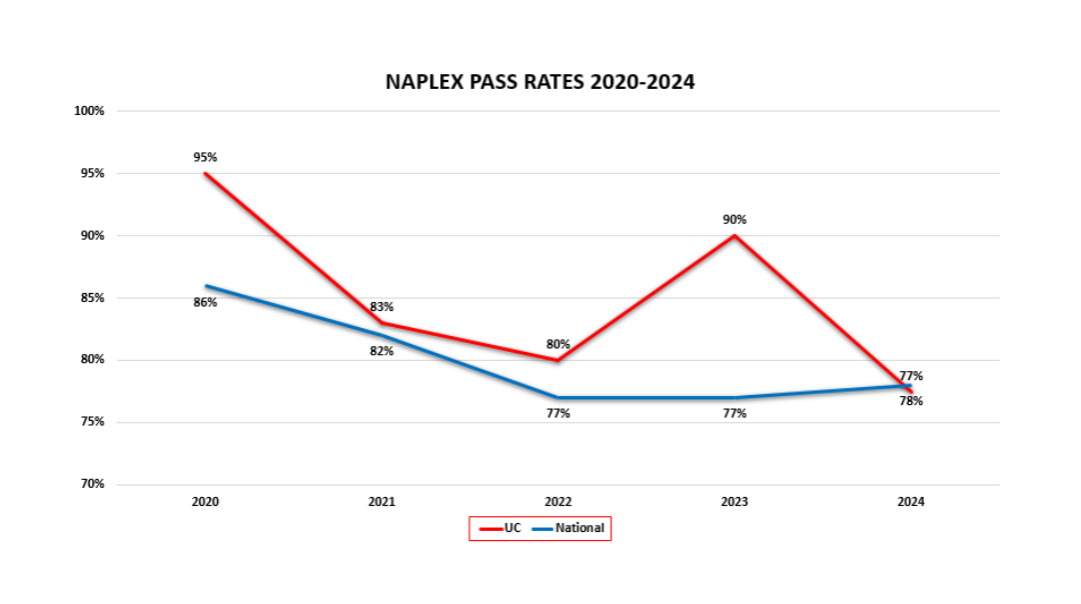 Student success at the Winkle College of Pharmacy is monitored continuously. Students who encounter academic difficulty are identified through an early academic intervention program so that academic support and counseling can be provided in a timely manner. Tutoring services provide students with additional resources to assist with their performance and optimize academic success, especially as they transition from pre-pharmacy to the professional program. The overall attrition rate (8%) is lower than the national average for Doctor of Pharmacy programs.
In 2019, 83 students were admitted into the program with a target graduation of 2023.  In 2023, 92% of those students graduated on time.
Students requiring a delayed graduation were for academic reasons     (n = 3) and for personal/medical reasons (n = 2).
One student withdrew from the program for personal reasons.  One student was dismissed due to academic and professional reasons.
Employed in the profession of pharmacy:  57 %
Residency/Fellowship Training:  39%
Unknown:  4%