Are you passionate about pharmacy but unsure of the right pathway to pursue? Look no further! At the University of Cincinnati's Pre-Pharmacy program, we offer flexible options that lead to an exciting career in pharmacy without requiring a Bachelor's degree.
With a comprehensive 72-semester-hour curriculum, our program prepares you for entry into the Doctor of Pharmacy (PharmD) program, ensuring you are well-equipped for success. The best part? You have the freedom to choose at least 15 semester hours of elective courses that align with your interests and career goals.
Worried about the time constraints? Don't be! All coursework must be completed within the last seven years, allowing you ample flexibility to tailor your educational journey. Plus, there's no need to stress about grades – as long as you earn a "C" or better, you're on the right track.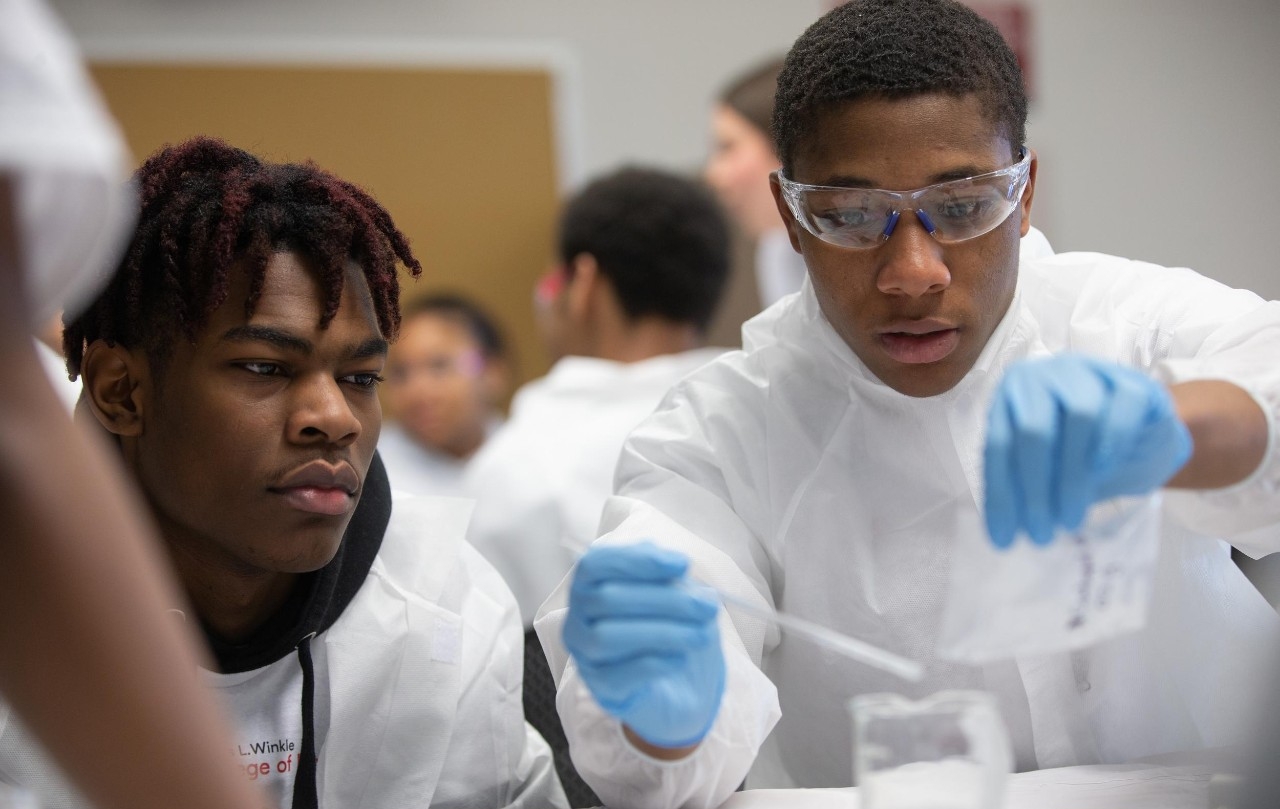 And here's the best part: you don't have to complete the entire Pre-Pharmacy curriculum at the University of Cincinnati. We welcome students from accredited colleges or universities, offering a seamless transfer process to ensure a smooth transition.

Our program opens doors to various healthcare settings, such as community pharmacies, hospitals, research institutions, and the pharmaceutical industry – all in high demand, especially after the challenges posed by COVID.
Take the first step towards becoming a pharmacist with our Pre-Pharmacy Program – a fulfilling program that boasts impressive salary and job outcomes!
Prepare for an exciting career in pharmacy with our comprehensive Pre-Pharmacy Program. The required courses for the program include:
Pre-Pharmacy Required Courses
UC Course Number
Course
Credits
ENGL 1001
English Composition
3 credits
ENGL 2089
Intermediate Composition
3 credits
MATH 1044, 1045
Applied Calculus I & II
4-6 credits
CHEM 1040, 1041
General Chemistry I & II
8 credits
CHEM 1040L, 1041L
General Chemistry I & II Lab
2 credits
BIOL 1081
Biology I
3 credits
BIOL 1081L
Biology I Lab
1 credit
CHEM 2040, 2041
Organic Chemistry I & II
8 credits
CHEM 2040L, 2041L
Organic Chemistry I & II Lab
2 credits
PHYS 1051
General Physics I 
4 credits
STAT 1034 or 1031
Statistics
3 credits
BIOL 2031C
Microbiology
4 credits
BIOL 2001C, 2002C
Anatomy & Physiology I & II
8 credits
CHEM 3040
Biochemistry
3 credits
 
General Education Electives
(See descriptions for required courses below)
15 credits
In addition to the required pre-pharmacy courses, students will also need to meet the following requirements: 
Complete a minimum of 15 semester hours of general education elective courses. Among these, a minimum of 3 hours must be dedicated to diversity and culture or social and ethical issues, empowering graduates to excel and make meaningful contributions in our ever-changing global and diverse society.
Complete a minimum of 6 semester hours in the Arts & Humanities, with examples encompassing but not limited to classics, literature, foreign languages, philosophy, linguistics, rhetoric, dance, drama, music, visual arts, and history.
Complete a minimum of 6 semester hours in the Behavioral & Social Sciences, with examples including but not limited to communication, cultural anthropology, economics, human geography, planning, political science, psychology, and sociology.
Students who have achieved an acceptable score on an AP exam may receive credit for Pre-Pharmacy requirements. To explore UC's AP exam score requirements and corresponding course equivalencies, refer to the official guidelines. 
For personalized guidance on which pre-pharmacy courses may be exempted based on AP exam scores and which courses require repetition despite achieving an acceptable score, please reach out to the College for advising.
The Pre-Pharmacy program offers students a wide array of career opportunities, with over 100 different jobs available for PharmD graduates in specialties like Ambulatory Care, Bariatrics, Pediatrics, Geriatrics, Hospital, Veterinary, Drug Safety, Drug Research, Quality Control, Education, and Administration. These paths are thoughtfully designed to align with individual interests and aptitudes, presenting promising employment prospects for a future filled with boundless potential and gratifying accomplishments.
For Pre-Pharmacy students who choose to pursue and become PharmD graduates, a world of fulfilling and impactful careers awaits in various fields, reflecting the vast opportunities provided by the program.