PGY1 - Community Based Residency (Geriatric Focused)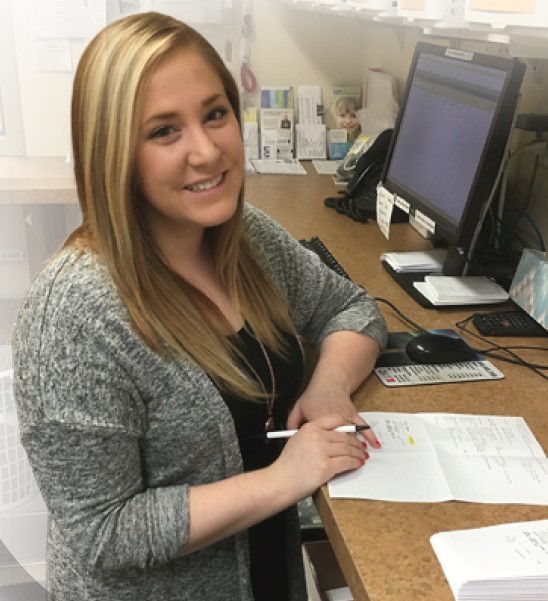 Take your career and pharmaceutical skills to new heights by joining our PGY1 Community-Based Residency (Geriatric Focus) program. As a resident, you'll have the extraordinary opportunity to participate in national research and contribute to groundbreaking pharmacy impact studies that delve into previously unexplored areas, pushing the boundaries of knowledge within the long-term care (LTC) community.
What sets our Geriatric Program apart is its unique and comprehensive approach to training long-term care pharmacists. Unlike many other programs that focus solely on consulting pharmacy or long-term care dispensing, our program offers a joint approach, equipping residents with a deep understanding of both facets. This holistic training ensures that our residents graduate from the program with the ability to serve the rapidly expanding geriatric population, providing comprehensive care and making a significant difference in their lives.

As a consultant pharmacist, you'll have the opportunity to manage a diverse patient population, reviewing their charts monthly to help navigate various disease states and foster strong relationships with healthcare providers. Whether your patients reside in long-term care, assisted living settings, or group homes, your role will be to strike a balance between treatment and quality, ensuring optimal health outcomes.
Key aspects of your role include:
Direct Patient Care: Devote 24 hours per week to delivering patient-focused and facility-centric care as a consultant pharmacist. Through comprehensive customized medication management services, you will eliminate unnecessary medications, optimize formularies, and streamline protocols. Collaborating with patients, caregivers, and the interprofessional healthcare team, including primary care providers, nurses, and administrators, you'll work towards optimizing patient outcomes.
Pharmacy Management: Spend 12 to 15 hours per week at LifeLine24, a privately owned long-term care pharmacy, where you'll be part of a specialized pharmacy team managing all aspects of pharmacy operations. This role focuses on high-acuity patients/residents and requires expertise in pharmacy management.
Teaching: Dedicate 4 hours per week to teaching a diverse range of learners, including pharmacy students, patients, providers, and fellow pharmacists/technicians. Sharing your knowledge and expertise will contribute to the growth and development of these individuals.
Services: Lead research, business plan, and quality improvement teams for approximately 4 hours per week, aiming to launch or enhance clinical services. This role allows you to spearhead initiatives that drive innovation and improve patient care.
Through these hands-on and educational experiences, you will develop a well-rounded skill set and make a positive impact on patient outcomes while enhancing your clinical proficiency as a pharmacist.
You'll have the opportunity to collaborate with and receive support from our exceptional team below at two Practice Partner Locations:
Community First Pharmacy, located at 1206 Main Street, Hamilton, Ohio 45013
Medication Managers, located at PO Box 377, Mason, Ohio 45040
LifeLine Pharmacy, located at 3699 Symmes Road, Hamilton, Ohio 45015
Site Coordinators:
Lyndsay Howell, PharmD, Director of Pharmacy for Community First Pharmacy
Casondra Seibert PharmD, BCGP- Medication Manager
Andy Mann PharmD- LifeLine24
Joanne Lankford PharmD- LifeLine 24
Preceptors:

Rick Hytree PharmD
Norb Kinross PharmD
Application Requirements:
Prospective candidates must be graduates of an accredited college of pharmacy or on track to graduate before June 30th of the application year.
Be licensed or eligible for licensure in the State of Ohio
Be able to legally work in the U.S. prior to submitting his/her application to the program
Registered with the National Matching Service (NMS)
Be eligible to administer immunizations in the State of Ohio
Application Materials:

Residency candidates must include:
Completed application using the Pharmacy Online Residency Centralized Application Service (PhORCAS)
Personal statement (e.g. letter of intent) specific to the site you are applying (ie St Vincent de Paul).
Curriculum Vitae
Official transcript for professional pharmacy education
Three references (using the online ASHP standard reference form) from individuals who can attest to your practice skills and abilities.  If currently employed, one letter must come from your internship site.  Preference given to letters of recommendation from Community or Ambulatory Care APPE rotation preceptors. 
Application Process:

Select candidates will be invited for an on-site interview in January or February. The PGY-1 Community Based Pharmacy Practice Residency at the UC James L. Winkle College of Pharmacy in Cincinnati, OH is accredited by the American Society of Health Systems Pharmacists. This Residency site participates in the ASHP Resident Matching Program and agrees that no person at this site will solicit, accept, or use any ranking-related information from any residency applicant.
Application Deadline:
December 31st of the application cycle
As a participant in the Geriatric Focused Community-Based Pharmacy Residency program, you'll enjoy a range of valuable benefits, including:
Competitive Annual Stipend of $47,476/yr.
Comprehensive Health Insurance coverage for you, your spouse, and dependents, including Medical, Dental, and Vision plans.
Contributions in Ohio Public Employee Retirement Systems (OPERS) to secure your financial future.
Generous Vacation/Sick time to ensure a healthy work-life balance.
Tuition Remission for continued professional growth and development.
Financial assistance to attend professional meetings, enabling you to expand your knowledge and network within the field.
Access to a Teaching Certificate Program to enhance your teaching skills and contribute to the education of future pharmacists.
One-year appointment as a Clinical Instructor of Pharmacy Practice and Administrative Science, allowing you to gain valuable experience and mentorship in the field.
For more detailed information about these benefits, please click here.
ASHP/APhA Community-Based Residency Program Universal Purpose Statement
PGY1 pharmacy residency programs build on Doctor of Pharmacy (Pharm.D.) education and outcomes to contribute to the development of clinical pharmacists responsible for medication-related care of patients with a wide range of conditions, eligible for board certification, and eligible for postgraduate year two (PGY2) pharmacy residency training.
The University of Cincinnati Community-Based Pharmacy Residency Program
Our program prepares residents to fill positions as clinical providers of advanced patient care services in community-based pharmacy settings with a focus on underserved communities. The program will equip the resident to: 1. Provide culturally appropriate direct patient care services 2. Hone skills essential to becoming an integral part of a health care provider team 3. Educate patients/family members, health care providers, health professions and the community 4. Develop leadership, research and health care improvement skills needed to advance community-based practice. 
For further detailed information about our Geriatric-Focused Residency Program, including policies, procedures, and program requirements, please refer to our comprehensive Residency Handbook available below.